(São Paulo, SP)
PARTE is the first and only Brazilian art fair dedicated exclusively to contemporary art. It is a place to showcase, learn more about and take home the finest art of our time. The fair comes to Shopping Cidade Jardim, and takes place from the 11th to 14th June.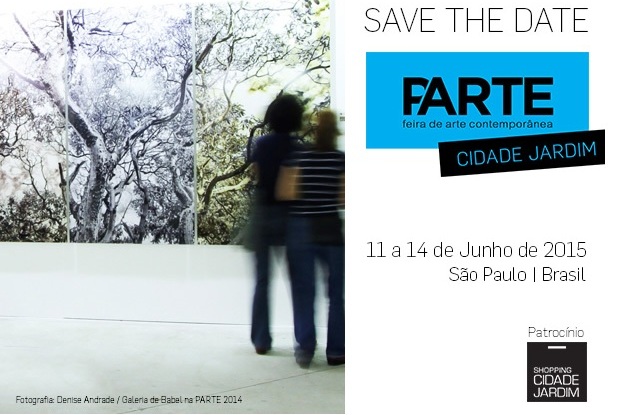 The fair was born in 2011 and quickly became the meeting point of the new generation artists, daring galleries and those interested in current production and in a closer experience to it, from curious visitors in search of their first work of art to experient collectores looking for promissing news.
The fair believes art can and should be for whoever wants it. At PARTE informations about artists and their works is always in plain sight – including the prices. So that visitors and feel free to ask, compare and decide with enough elements what they want to have in their collections, their homes, their lives.
Some of the artists with works on view are:
Felipe Cohen, Lourival Cuquinha, Luiz Hermano, Maria Lynch, Nazareno, Pedro Motta, Regina Parra and Tatiana Stropp.

Feira PARTE Cidade Jardim
11th to 14th June

Opening hours:
Thursday, 11th: from 1 to 10pm (opening exclusive for guests)
Friday 12th and Saturday 13th: form 1 to 10pm
Sunday 14th: from 2 to 8pm

Shopping Cidade Jardim
Av. Magalhães de Castro, 12000
3 andar, Espaço Casa Bossa